Ok folks here's a basic rundown of my hack. This hack is a hack of Sonic 1. I'm using ASM to program it. So far it includes:
Mighty as a second character
Perfect spindash
Super peelout
Goggles monitor
Temporary character swap monitor (Chaotix, 70% done)
Music from S3 and Ristar
GHZ level art changes
LZ level art changes
Compressed art changes
Dynamic palettes
SRAM
Our hacking team, Team Hedgehog, consists of:
Me: Main programmer, level designer, level artist.
Tarheeltim: Sprite artist, beta tester
Sephiroth: Beta tester
All of the level art for the game was done by hand.
Any suggestions are welcome!
Here's some screens.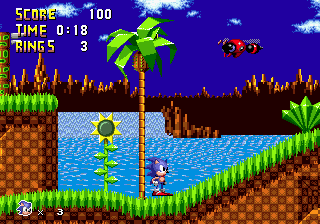 Buzz Bomber art is Sonic CD style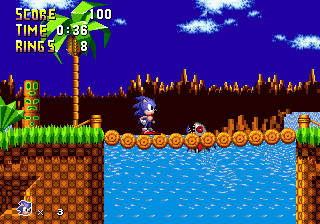 Fish art is now S2 Beta style. The bridge is S3 Angel Island's bridge.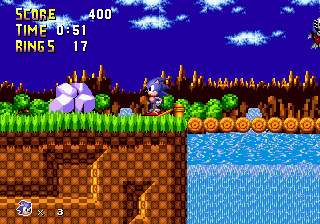 S3 rock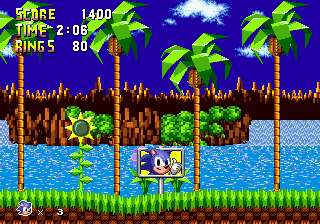 Sonic CD Beta (510?) signpost
New special stage pallet.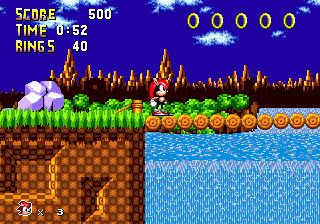 Mighty game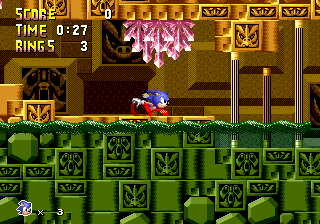 Example of super peelout (old art) and new LZ art (still editing it)
Creds to SMTP and Tweaker for all the programming help.
Creds to SCAA for all the GHZ art (except level art).
Whargle, other assorted updates.
GHZ music is now Green Grove Zone (Sonic 3D)
Waiting animation now has Sonic waving his finger.
SYZ music is Diamond Dust Zone (Sonic 3D)
Ported Evening Star (Crackers), using it to understand how to port Chaotix music.
Porting Invincibility music from Sonic 3D for speed shoes.
I fixed my problem. I had to replace my PLCs.
Oh, such a crappy release...
Releases:
1st public release (Pre-artfix) v.0X This is shit compared to the new version! So don't bitch yet. In fact, don't even play it.
http://www.mediafire.com/download.php?4xzxmz1zzum
(2 MB, I've done some ROM trimming now).
Bug for v.0X
This will be rectified thanks to lukeusher123.
From editing pallets (I fucked it while adding Mighty's in). It's normal now.
Fixed.
Ugly DAC in the music. All fixed (creds to Pu7o).
Non-rotated peelout sprites (fixed).
In any level where you can fall to your doom in a bottomless pit, you go to SBZ Act 3. This happens because I edited the routine that would kill Sonic. I have yet to fix this as it conflict with the peelout routine. (Yet to be fixed)
Credit: SOTI for taking the screen (because I'm nice).
Discuss.
EDIT: Spelling fix. I missed the s in cycles.
Edited by Armada, 18 August 2007 - 02:33 PM.